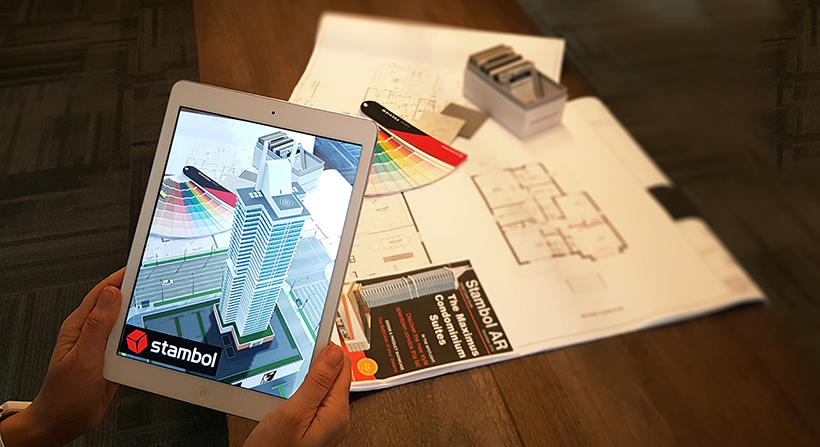 Top 5 Benefits of VR & AR for Real Estate
In the wake of a huge year for Virtual Reality, many industries are still getting to grips with how they can use VR. Some businesses lend themselves particularly well to Virtual and Augmented Reality technologies. Real Estate and Architecture are among them, and here's why.
1. Keep Costs Down
Virtual Reality allows developers to replace costly show homes, scale models, and printed collateral – all of which need to be redesigned and remade when concepts change. Whether you're waiting to break ground or reaching outside your traditional market to sell the last of your inventory, VR is an effective and efficient way to connect to fresh prospects.
Augmented or Mixed Reality allows developers to retain printed collateral, but adds the option to bring it to life. In lieu of a scale model with its associated costs and limitations, AR is a clever combination of tablet, app, and custom brochure. Watch the video below to see how it works.
2. Reach Prospects Anywhere
VR has the power to reach anyone in the world within minutes. And not with a downloadable PDF, but with a meaningful and impressive immersive experience. Convey the quality of your work and the benefits of your product the way it was meant to be seen without requiring prospects to travel to your show home within your operating hours.
AR & MR can cross huge distances as well, reaching users with a printable PDF and app combination that brings a flat image off the page and into reality.
3. Make an Emotional Connection
Because VR places users inside a whole new world, the experience is one of being transported. Picture the impression your best show home makes when being viewed for the first time. Now imagine eliciting that reaction virtually. You'll be surprised how awe translates within a virtual world.
AR achieves an emotional connection as well, starting with delight, igniting creativity, and arriving at sense of satisfaction about a decision well-made.
4. Customize Every Surface
VR is more than just a walk through. Interactivity includes changes to walls, flooring, fabrics, counters, and even furniture models and layout. Give your prospects the rewarding hands-on experience of making a home their own.
AR allows customization, but it can work hand-in-hand with a show suite or display you may already have in place. Picture being able to change fabrics and finishes in real time, right in your show suite, simply by viewing the space through a tablet.
5. Capture Every Angle Inside & Out
VR can take users on a tour of your property, including interiors and exteriors. Remember, this is a medium that effortlessly lets users fly like a bird. Apply that functionality to your show home and you'll offer an experience that transforms home sales into a magical journey.
AR might not be able to launch users into a first-person aerial view of your project, but it can take a flat brochure or a magazine ad and transform it to a 3D object. Users have an instant (and cost effective) personal scale model anywhere, anytime.
Stambol Studios started our business with architectural and real estate work. Use our expertise in both high-quality renderings and new reality technologies to stand head and shoulders above your competition.