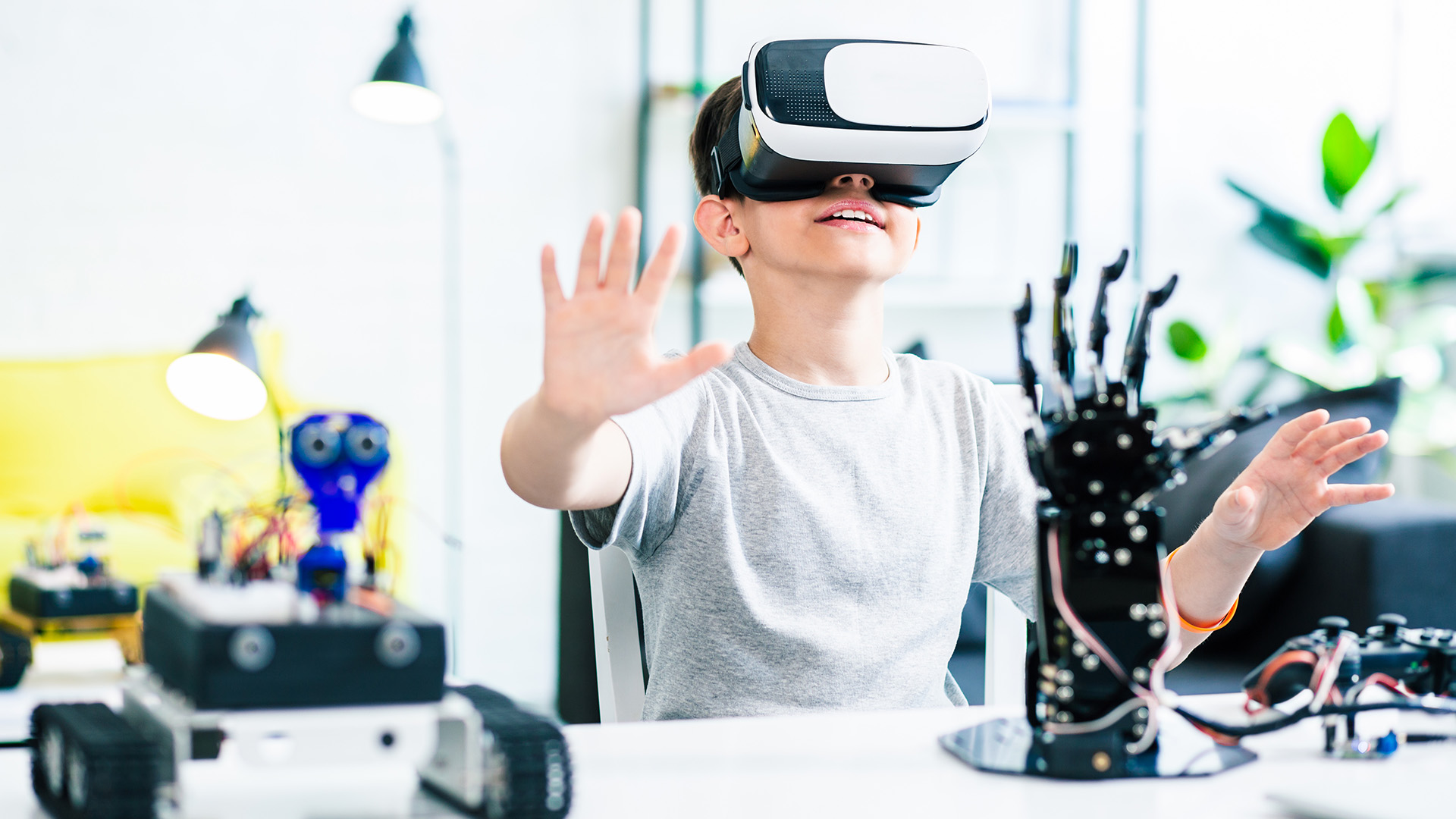 Educational VR & Remote Learning at Home
School closures and calls to work from home are jointly hitting parents hard during the Coronavirus (COVID-19) outbreak. We are being asked to maintain our professional presence, while concurrently performing roles of caregiver and educator. Fortunately, tools like Educational VR and a host of spatial computing and technology products are ready to use at home now. Much of the content is being made available for free, a small win for people struggling to find a new normal amidst the chaos.
We know that parents and educators are facing an unprecedented challenge; make massive semi-permanent changes to daily life – while fighting fear and confusion. Since Stambol is a 'glass-is-half-full' kind of company, we focus our energies on solutions. So, today we're sharing some remote learning tools and strategies today that can make these stressful times a bit more manageable.
Virtual Learning Made Fun & Easy
Educational VR often comes in the form of either games or interactive experiences. And while this sounds like both playtime and screen time, we encourage parents to embrace the change. It's an opportunity to make learning fun during an otherwise boring period of extended indoor time.
Engage the budding engineer in your home with a design game that teaches as much as it entertains. Practice building structures that need to stand up to the rigors of industrial traffic.
Even the youngest learners in your home can benefit from Extended Reality education tools. All you need to enjoy QuiverVision's downloadable colouring pages is the app, a printer, and a tablet or phone.
If you already own a Nintendo Switch, a VR option for kids is a mere few folds away with a Labo Kit from Toy-Con. We love the Doodle game for the Toy-Con Elephant as mess-free art activity.
Educational VR Field Trips & Walks
Virtual field trips have the instant benefit of getting kids' minds out of the house even when their bodies can't go too. Yet full immersion isn't always ideal. Luckily, Augmented Reality apps are also a quick and easy option for incorporating time outside into an otherwise indoor day.
Travel around the world to monuments and historic cities with 360-degree content for your computer or stereoscopic viewer.
Star Walk: Constellation Finder
Explore the night sky supplemented with star charts and identifications. Perfect for budding astronomy students!
PlantSnap Plant Identification
Augment your next nature walk with a little botanical lesson and even a simple neighbourhood outing can be educational.
Physical Fitness Tech for Kids
Staying active is a huge part of any child's holistic education. And it will continue to be challenging for parents to meet this need while their children are practicing social distancing at home. In addition to schools, places like playgrounds, gyms, and community centres play an important role in physical education – yet they are off-limits for the time being. So, a regime of Educational VR can (and should) include an activity component, whether it's immersive, augmented, or simply delivered online.
What kid wouldn't want to swing a lightsaber at a target? Pair that experience to a lively beat and you've got active kids for as long as they can keep up.
Kids that love dance games will hit the ground running in this beautifully crafted experience. Tracks include famous hits like Pump Up The Jam, Bust A Move, Push It, and Gangnam Style.
This classroom favourite for physical fun is perfect for enjoying at home. All you need is a smart television, computer monitor, or tablet.
Educational VR & Remote Training
Virtual learning is not just for kids and teens. Employers managing remote workers can still offer professional development and conduct internal training programs via VR and AR. The example below shows training for factory workers and technicians, but the applications of immersive training are much broader. Anyone who needs a task demonstrated by an expert can benefit from using VR for instruction purposes.
Immersive training is already used widely by professionals like pilots and surgeons. These experts need to be ready to respond comfortably to complicated challenges that may only arise infrequently. This strategy can work for occupations that need to keep hands-on skills fresh while isolated at home. Educational VR is an excellent strategy for keeping hands-on tasks fresh in the mind.
Simulations for First Responders
All kinds of emergency workers are being asked to roll up their sleeves and prepare to treat sick or injured patients. And many of them need additional training. Immersive Educational VR is a fantastic solution. These simulations can accomplish procedural practice and preparation for the extreme stress of field hospital work.
We hope to also see any Extended Reality technology being used in the field to assist with diagnostics and implementation of critical care. Spatial computing tools are ready to help. We think technology has an opportunity to shine a light in the darkness over the coming months.
Remote Learning Expertise
Educational VR and all distance learning technology have a role to play in almost every life now. We can use technology to learn, relax, connect, and best of all, to heal. So, we hope these resources are helpful, even just to get you thinking about how to balance the shift of bringing the best of the outside world home.
At Stambol, our experience collaborating internally from home offices has been a point of pride from our inception. Ask our team how everyone in your family can keep learning at home, even in the most trying of times.
Feature Image Credit: shevchukandrey / Adobe Stock