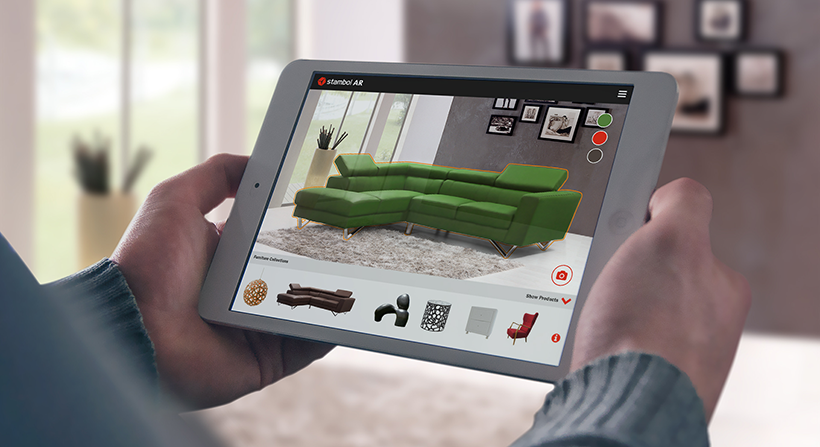 Top 5 Benefits of AR for 'Try Before You Buy'
Augmented Reality has been following hot on Virtual Reality's heels in the recent 'reality' tech boom. And like VR, AR is quickly expanding beyond the realm of games and entertainment.
What we mean when we say AR (or MR as the term Mixed Reality grows in popularity) is that you're looking at the real world with a virtual component overlaid. In the example above, you're looking at a real indoor space through your phone's camera, adding a virtual sofa.
As with many major tech innovations, AR may have its share of skeptics in terms of how it can (and will) be incorporated into daily life. Failure to recognize these opportunities can be the difference that allows one competitor to literally leap over another and claim a huge chunk of a changing marketplace.
We've already talked about how VR can access a new level of consumer experience. AR has as much, if not more, potential to achieve engagement and conversions for both online and brick-and-mortar retailers. Here's why we think AR will revolutionize the world of commerce.
1. Inject 'Cool' into Anything
Imagine delight and wonder on the face of a customer … while looking at your products. Adopting AR now is an excellent edge over competitors, for retailers in particular. It's a choice that can help a company establish an advantage, rather than playing catch up after consumer demand makes AR a requirement.
2. Choose Your Surroundings
Shopping from home has long been available via television, and then through the Internet. But consumers were always limited by their ability to visualize a product, taking a small thumbnail from behind a screen and imagining it in their life or space. AR can let you try a stunning cocktail ring or a trendy wristwatch while you enjoy coffee with a friend. Get a second opinion without the detour.
3. Risk-free Zero-liability Trials
Park a new car in your garage without worrying about a scratch. Repaint your walls again and again without the mess or backache. AR can put a sofa in your living room or a light on your ceiling in a few taps of a smartphone. Or maybe you'd like to place a fountain on your lawn. With AR, all you need is your tablet or phone to visualize a big change.
4. Maximum Product Customization
Eliminate buyer's remorse by trying out every swatch or finish for a product. AR helps take the guesswork out of large and/or expensive purchases by bringing paint and fabric samples to life in front of your eyes.
5. Distribute Hard Copies that Spring to Life
Send a prospect home with more than just a simple brochure. Combine a rack card or leaflet with an AR app to create a 3D experience your customer can enjoy over and over again, examining in detail at his or her leisure.
Like VR, we are just beginning to understand the potential of AR and how many uses this technology has for businesses and individuals.
If you're not sure how AR can help your business, reach out to us at Stambol Studios and we would be happy to answer.