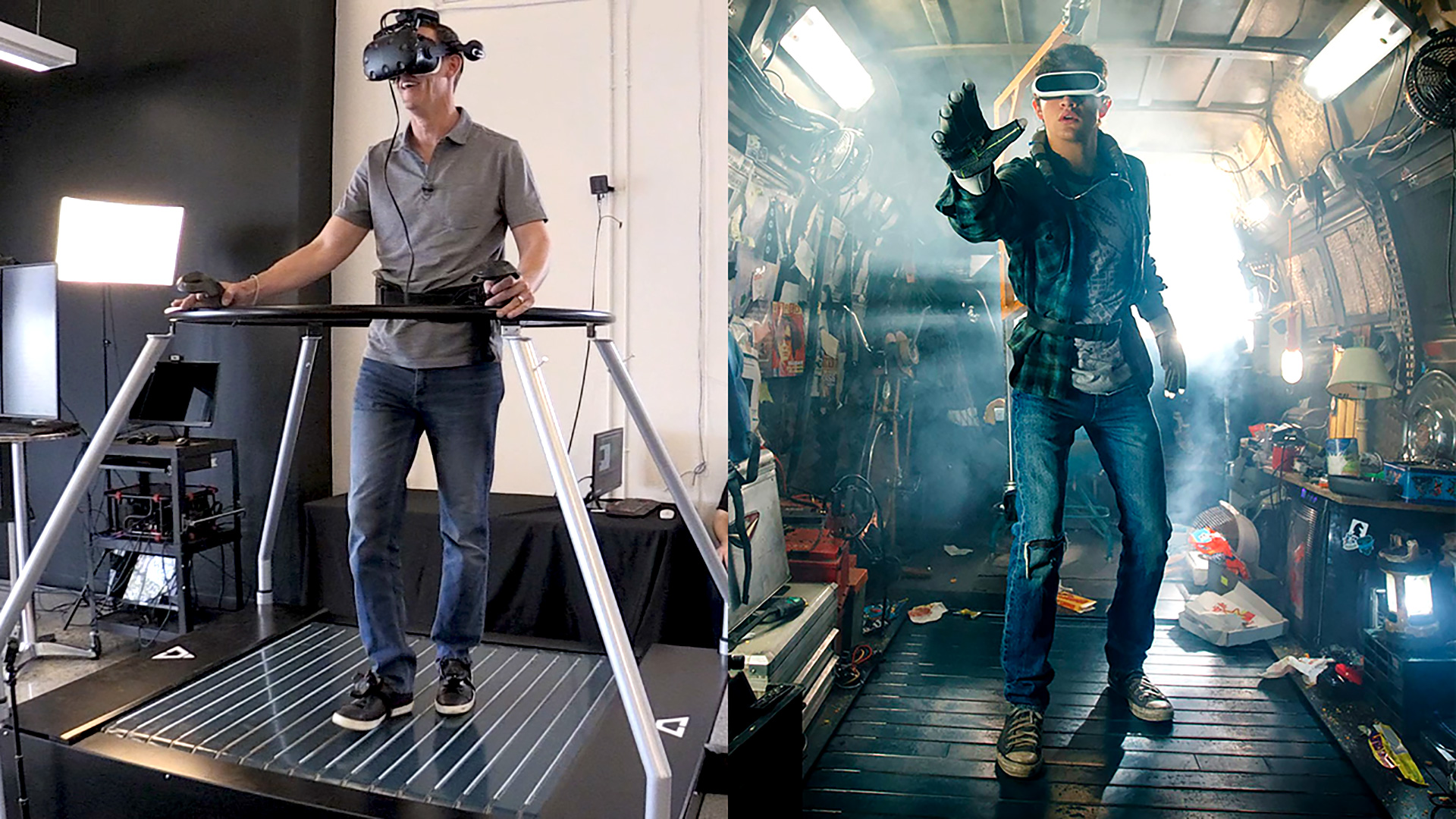 Walkable Walkthroughs and 6DoF
Where do you set the bar for physical interaction in a virtual world? If you dream about walking freely through a digital landscape, you might have already heard about omni-directional treadmills.
This technology works hand-in-hand with high-end headsets, hand controllers, and head phones. Haptic gloves and suits can be incorporated as well, offering more immersion than ever before.
It's referred to as six degrees of freedom – or 6DoF. Combining mobility with haptics means you can walk, run, reach, grab … basically do whatever comes naturally to you. On a treadmill you can safely perform all that movement while immersed without worrying about tripping over a chair, smacking a lamp, or painfully colliding with a wall.
The video above depicts an arcade-style setup of VR treadmills, but the technology has applications outside gaming. We love the idea of simply walking along a tropical beach, or more relevant to our Real Estate and architecture clients – walking through an unbuilt, yet meticulously planned community. The same treadmill developer, Virtuix Omni, illustrates the idea with their Nature Treks video below.
Truly walkable Real Estate tours could take VR property presentation and marketing to the next level. For large, complex, and/or luxury developments, the added level of mobility makes the experience more real, therefore more appealing.
Top 5 Omni-directional VR Treadmills
Arguably the leading manufacturer of VR treadmills, their products are designed to accommodate running and heavy action. They also offer a turnkey group experience arcade.
Also shown above, the KatWalk product is a little different as it has no ring around the user. The design is intended to maximize freedom of movement.
These products were designed as much for industry as for gaming. They work for research and development as well as law enforcement simulations.
They create a streamlined treadmill product directed at classrooms and institutions. Spacewalker also makes a VR chair ideal for flight simulations.
Praised as an extremely natural feeling treadmill, Infinadeck boasts a very clever dynamic walking surface. The floor moves with you and seamlessly responds to diagonal motion.
Omni-directional treadmills are not, at present, a realistic purchase for most home VR users. These products are part of the growing location-based VR market – which just so happens to make them ideal for show suites.
As increasing numbers of Real Estate developers incorporate VR into their offerings, the opportunities to stand out will not be limited to graphics quality. Hardware installations can be so much more than just a few high-end headsets. In the case of larger developments, be they commercial or residential, the ability to move freely around the property is extremely attractive.
While most treadmills cost several thousand dollars to purchase, they make up for the investment by saving much more on the furnishings, décor, and overhead associated with multiple show suites. Developers working on more than one project can load them all onto the same treadmill and headset array.
Tourism and hospitality marketers may also want to pay attention to VR mobility. Providing virtual tours of resorts will make traditional video marketing look like the distant past. The option for travellers to capture their own vacation experiences to relive again and again may one day replace the traditional home movies we've come to cherish over generations.
How can 6DoF enhance your development's marketing plan? Reach out to a Stambol expert to ask us what hardware and VR/AR blend will work best for your needs.
Image Credit: The New Screen Savers