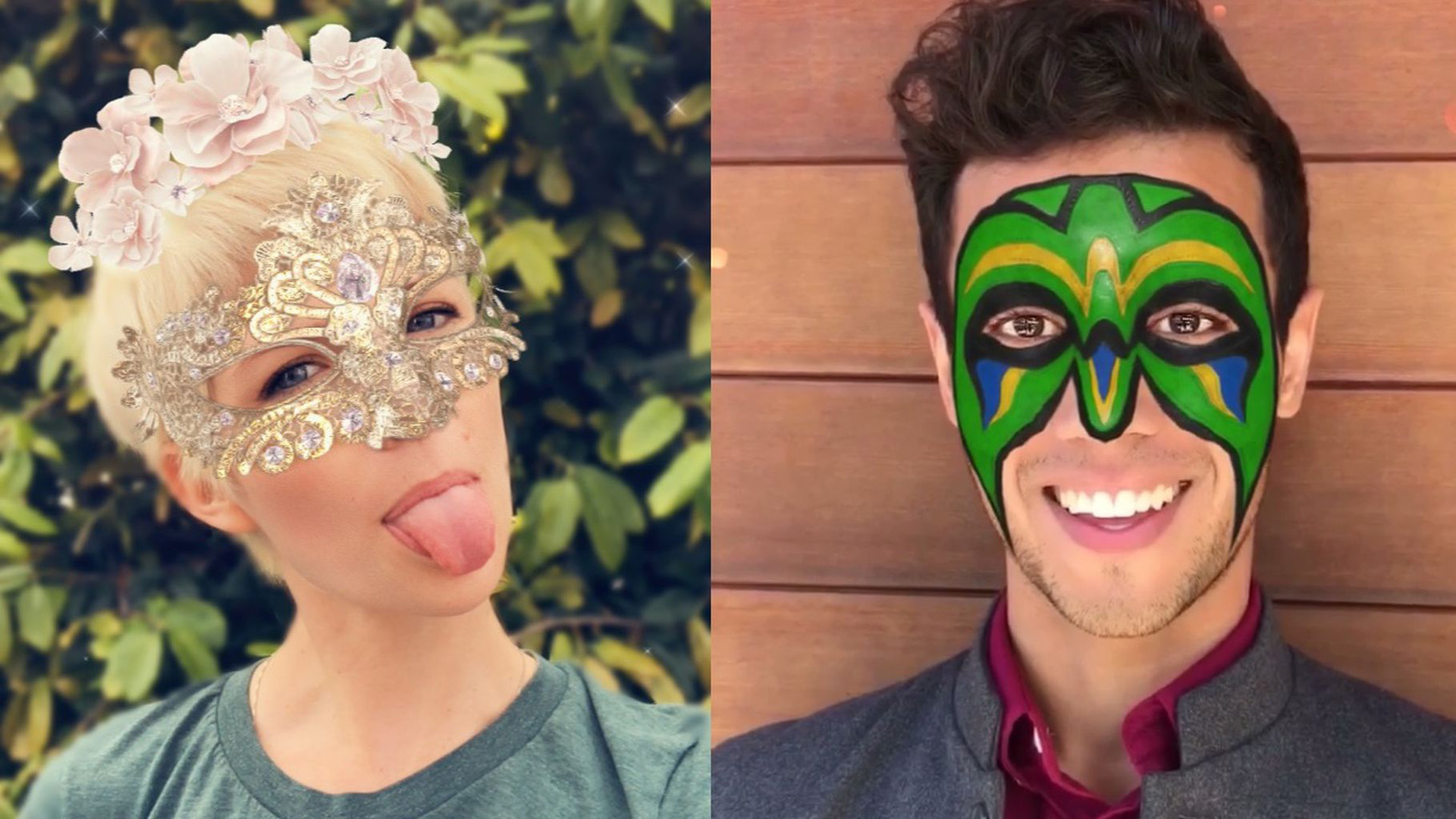 AR Filter Apps for Halloween and Beyond
Augmented Reality offers us many opportunities to create playfully. So why not apply the endless possibilities of AR filter apps to our most popular of costume-oriented holidays?
AR filter apps do more than just add a little seasonal fun to your October social media posts. By using these filters instead of purchasing often expensive, usually disposable costume gear, you're saving money and keeping cheap glitter-coated plastic out of landfills.
And while face makeup is a great alternative to disposable plastic costumes, it doesn't work for everyone. Time and skill are required to achieve looks like the ones below. And if your skin doesn't cooperate, you're in for a painfully irritating experience.
Top 5 Halloween AR Filter Apps
A great selection of makeup-style Halloween masks. Very detailed and a wonderful photo alternative for people with sensitive skin who can't wear costume makeup.
Sound it out and this app explains itself. These beautifully detailed masks include highly realistic features. Most cover the entire face unlike the ear and nose options of other animal feature photo filters.
Famous for turning legions of users into deer, bunnies, and other adorable creatures, Snapchat now has customized Halloween filters that include fun banners of ghosts, candy corn, and pumpkins. Unfortunately, their best new masks (shown in the featured shot above) are only available on the iPhone X.
This fun little makeup app has several spooky filter choices that are perfect for Halloween. Look for horns and webby goth-inspired extras.
The name says it all. This app offers a creepy balaclava-style skin for your latest selfie. Not as much variety as the others, but very targeted to costume season.
Facebook's AR Development
Beyond Halloween, AR filter apps have proven their popularity through the success of Snapchat and its many imitators. At Stambol, we were not at all surprised to see Facebook getting onboard the trend train and developing AR filter technology including Spark AR Studio and its counterpart, Facebook Portal.
Portal is ideal for users who struggle with products like Skype or FaceTime. If you're reading a post on the Stambol blog, chances are you're comfortable with all tech products that cross your path. But you may want to video chat with someone slightly … less tech savvy. So, the fact that Portal is ready to go, for that purpose, is a great option. Filters and all.
Although Facebook Portal requires proprietary hardware to participate in its video chat features, picture quality is reported to be higher than Facebook's Messenger system. Just take a look at their latest commercial.
If the video above doesn't make you smile, we're not sure what will. Muppets and fun virtual masks are a winning combination – one that wouldn't be possible without Augmented Reality.
In spite of a clearly charming filter feature, we have mixed feelings about awesome tech that works for few users or requires expensive new hardware. But watching Facebook's AR tech evolve is promising nevertheless.
What we DO love about Facebook's AR development is that Spark AR Studio is available to third parties. Developers who want to customize AR filters can upload their own imagery and customize their own apps as needed.
Spark is even user-friendly enough to allow content creation without code through Patch Editor. Finished filters can be published to Facebook or Instagram. Spark-created AR filters are even smart enough to respond to movement in a video or follow user's hand movement through phone cameras. It's a sophisticated method of threading digital content into real world imagery.
More AR Filter Apps for Business
AR for business is on the rise and a big part of this trend is the growing number of AR software development kits on the market. In addition to Facebook's Spark, options include Snapchat Lens Studio, ARKit, ARCore, and the up-and-coming DeepAR.
Lens Studio comes to us from Snapchat. It allows third party developers to create their own content, but it is limited to use on Snapchat.
ARKit is Apple's AR development platform for mobile devices. Although the content created with ARKit can only be viewed on more recent generations of iPhones and iPads, the audience is large enough to be worth any developer's time.
ARCore is Google's AR platform, but unlike its Apple competitor, supports multiple environments including Android, iOS, Unity, and Unreal.
Both ARKit and ARCore are platforms for developers only. DeepAR on the other hand is a bit different in that respect.
DeepAR Studio
Deep has a Studio version that allows users to focus on asset creation rather than platform-building. Meaning it's possible for users who aren't developers to create content. We don't recommend that tech-savvy small business owners or similarly motivated multi-taskers dive right in and start creating their own AR campaigns.
However, DeepAR Studio could be a great path to developer/client collaborations. Placing content tweaks and smaller maintenance tasks in the hands of the client means that AR development will be available to more businesses on smaller budgets.
Even though the example below features a pair of high-profile brands, the potential is still there to place your logo where these big players are now.
Advertising with AR Filter Apps
Digital content in an AR filter app is a clever and effective way to facilitate organic social branding. AR can also turn a try-before-you buy shopping session into a viral trend-starter.
YouTube is integrating AR advertising too. Earlier this year, in partnership with Google, they launched AR Beauty Try-On. It allows users to try on cosmetics from the comfort of their home.
AR ads and filters are not only cost effective to create, but they save on floor models and testers. Storefronts can save money on location-based advertising, enhanced with targeted messaging.
So, if you can picture your business benefiting from customized selfie accents or virtual product placement, AR could be a great fit.
Stambol rule-breakers love coming up with innovative branding that doesn't look or feel like marketing. Ask us how VR/AR can infuse your next campaign with fun and wonder.
Feature Image Credit: Snap Inc.