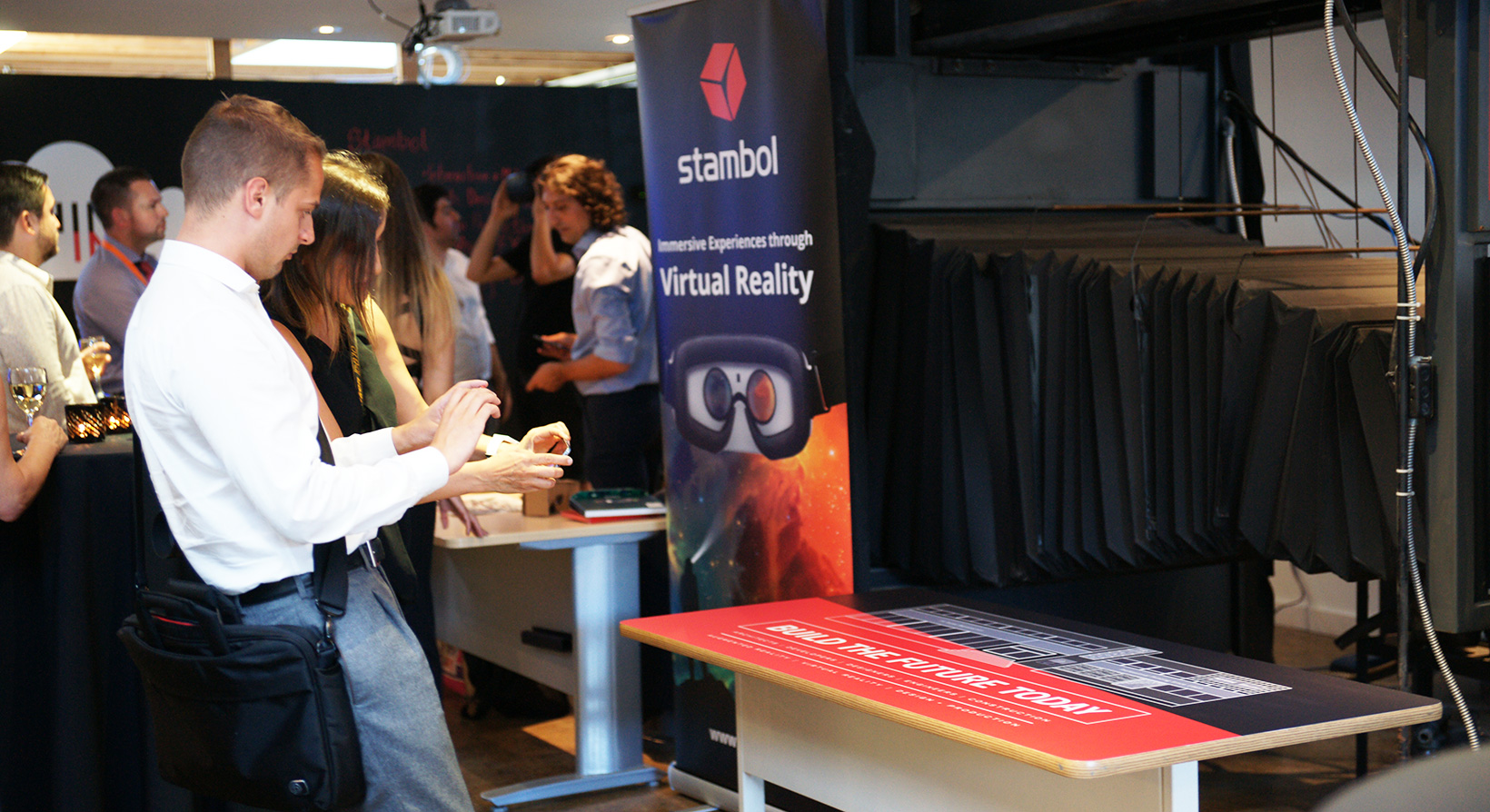 5 Pieces of Marketing Collateral that can Use AR
When you think of adding Virtualities to your marketing plan, you might be tempted to visualize a lounge full of expensive equipment. Once that scenario materializes in your mind, it's easy to write off the endeavour as too costly or cumbersome for your agile brand.
In the era of pop-up shops and online marketing, we want business to think of Virtualities as being just as limber and mobile. Augmented Reality, in particular, offers a fascinating blend of street presence and high tech.
AR combines a smartphone camera, graphic trigger, and an app to launch videos or 3D imagery. Your brand can reach people where they live and work. AR enhanced collateral even works from behind a computer screen or any flat surface that can display an image. All you're asking customers to do is download an app or visit a link via Web-based AR to bring your collateral to life.
Posters
We love that posters (like the one we designed for the VTFF, shown above) can truly reach an audience on the street. Or the train. Or the restaurant bathroom. Don't restrict your imagination to a traditional piece of wall art. Anywhere you can purchase a display ad is somewhere you can reach out through AR.
Rack Cards
If you can advertise your business or service with a rack card, you can expand your pitch with AR. Whether you distribute the card through third parties or rely on staff to place it in the hands of qualified prospects, this cost effective piece of collateral has a limited shelf life once it leaves your office. Encourage your customers to keep it longer, interact with it more deeply, and learn more about what you offer.
Postcards
Depending on how you use it, this versatile piece of print is a great relationship builder and a solid vehicle for reaching new customers. Why not make it more powerful by adding a third dimension? As with the rack card, your collateral could go from the recycling bin to the fridge or bulletin board when it does more than make a quick text-based pitch.
Booklets
While larger collateral pieces allow you to 'say' a lot more, nothing takes the place of transporting a customer into your world. Welcome guests to a luxury development with an aerial tour. Provide 360 degree tours of spa facilities and convey the ambiance of your opulent facility. AR can help you communicate what printed material simply can't.
Packaging
How would you like to demonstrate a product without taking it out of the package? In-store demonstrations are costly and not always possible. From kitchen gadgets to clever toys, a video launched through AR can answer questions while showcasing features and benefits.
Ask a Stambol expert about how we can thread AR into your printed collateral plans. Be the first of your competitors to do it and be remembered.