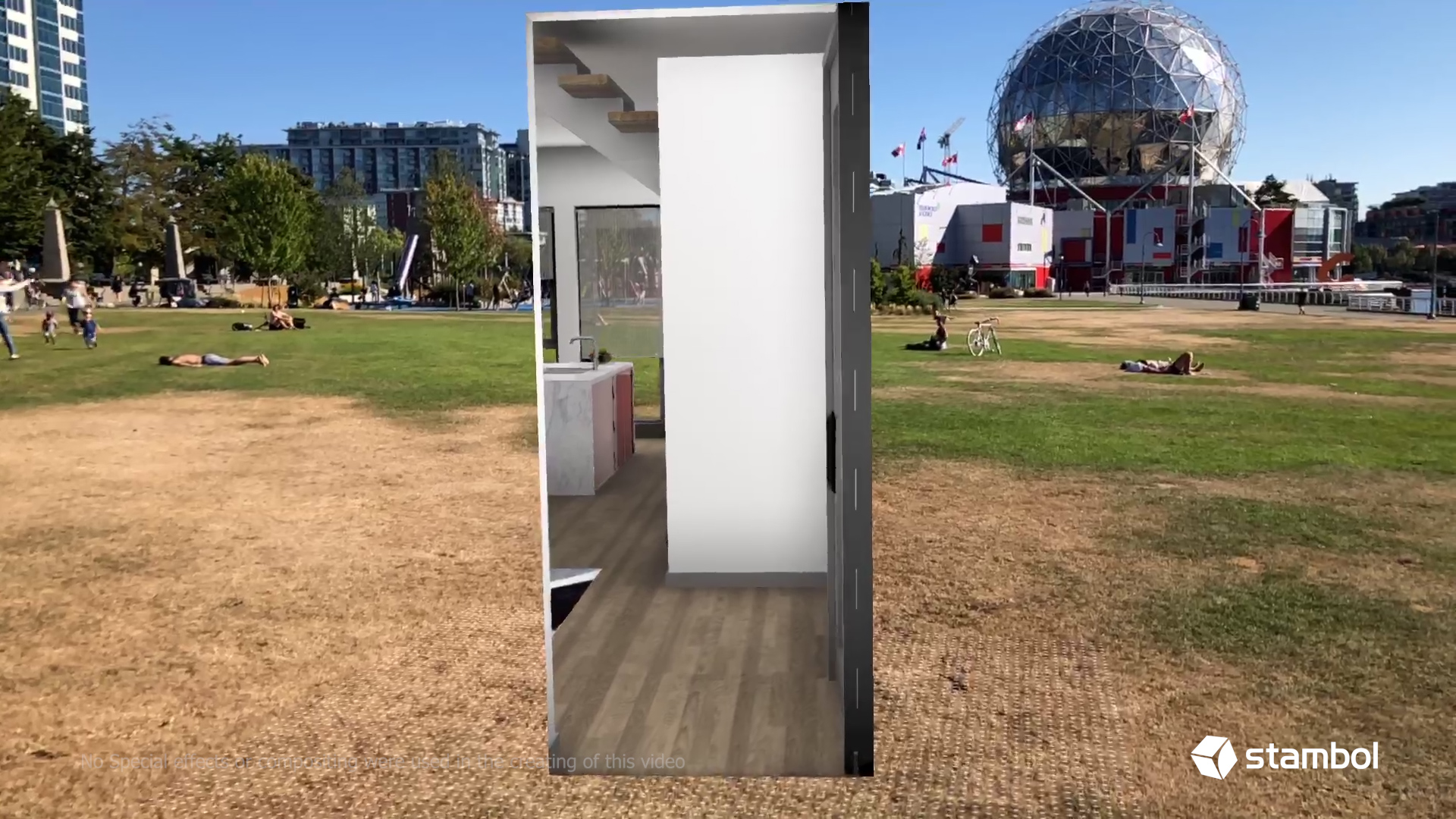 3 Ways to Use AR for Real Estate Marketing
Stambol Studios has always had real estate and architecture at the core of our business. We pride ourselves on the combined expertise we bring to this area of the Extended Reality world.
As we watch Real Estate Marketing evolve into the virtual space we already occupy, we are always looking for new ways to showcase XR's true full potential. Although we also specialize in VR experiences and 360 degree visualizations, today we're teasing apart the main three strategies for using Augmented Reality to present a property development.
We want you to know that AR for Real Estate is not just a flash in pan – far from it. AR is moving towards industry standard for property marketing and here's why.
Create a Portal into Your Project
When we use the word 'portal', we really mean it. Just watch the video below. Realtors can take a client on a virtual walkthrough of ANY property, from ANY venue. Meet your prospect in a Toronto café for a tour of a Vancouver condo. Whether you travel to a client's home or take a meeting in your own boardroom, you have instant access to any property you wish to show.
Your portal tour is a digital replica with a hand-held device as the window inside. Lean in, walk around the unit, and inspect surfaces. Imagine being able to control the lights, open cabinet doors, and turn on the tap in a sink! Let your imagination explore options and your XR team can do the rest.
Using ARKit on iOS11 or ARCore on Android, we can build an experience that transforms literally any space into a show home with a few quick clicks. The best part of an app like this is that you don't need a headset or an image-based marker. An AR portal show home is open 24/7, fully accessible, staged, and in a word … perfect.
You can share the portal tour with your client's phone or tablet, allowing them to stay interested and considering a purchase long after your meeting is over. Re-connect over the phone and know that you and your prospect are viewing the same imagery as you answer questions and address concerns.
Enhance Your On-Site Tours
It has long been a great sales strategy to tour a construction site and show investors or prospective buyers how and where the project is progressing. Imagine adding AR to this tour, overlaying high-end digital renderings that bring your narration to life in breathtaking detail.
AR provides the opportunity to visualize décor options overlaid during the framing stage, which can streamline your planning. You can ensure pre-construction owners and financial stakeholders are completely in the loop on any changes you need to discuss during a tour.
Building visualizations are also ideal for renovations and additions, as shown in the video above. Stirring excitement for the design and construction phases of a building revitalization can be challenging – after all, you don't have a visually impactful crater in the ground to point to saying, 'Hey, we're putting a dent in the skyline here.' Now you can visit a less exciting construction site and still have an engaging presentation.
Augment Your Printed Branding Material
One of our favourite digital strategies for Real Estate Marketing is the augmentation of print collateral. Image-based AR markers can be incorporated into portable, shareable rack cards and brochures as easily as stationary posters and billboards.
Make your printed material work harder – enough to make expensive physical scale models obsolete. AR presentations engage audiences independent of your staff and office hours. The reason you send prospects home with painstakingly honed rendering imagery is to keep them looking at visuals alongside specs and prices. AR enabled collateral takes that strategy to a new level, bringing flat models and interiors into bright three-dimensional life.
AR Marketing Beyond Real Estate
Augmented Reality marketing has become industry standard, not just for realtors and architects, but for all marketers, everywhere. Marketing professionals of all stripes need to familiarize themselves with this technology or risk continued drops in sales volume. Become well-versed in how to leverage all XR tech to its maximum potential, and you're a marketer poised to lead your industry.
Ask a Stambol expert how one (or all) of the AR strategies above can be integrated into your marketing plan. We have solutions for every budget and every scale of development.