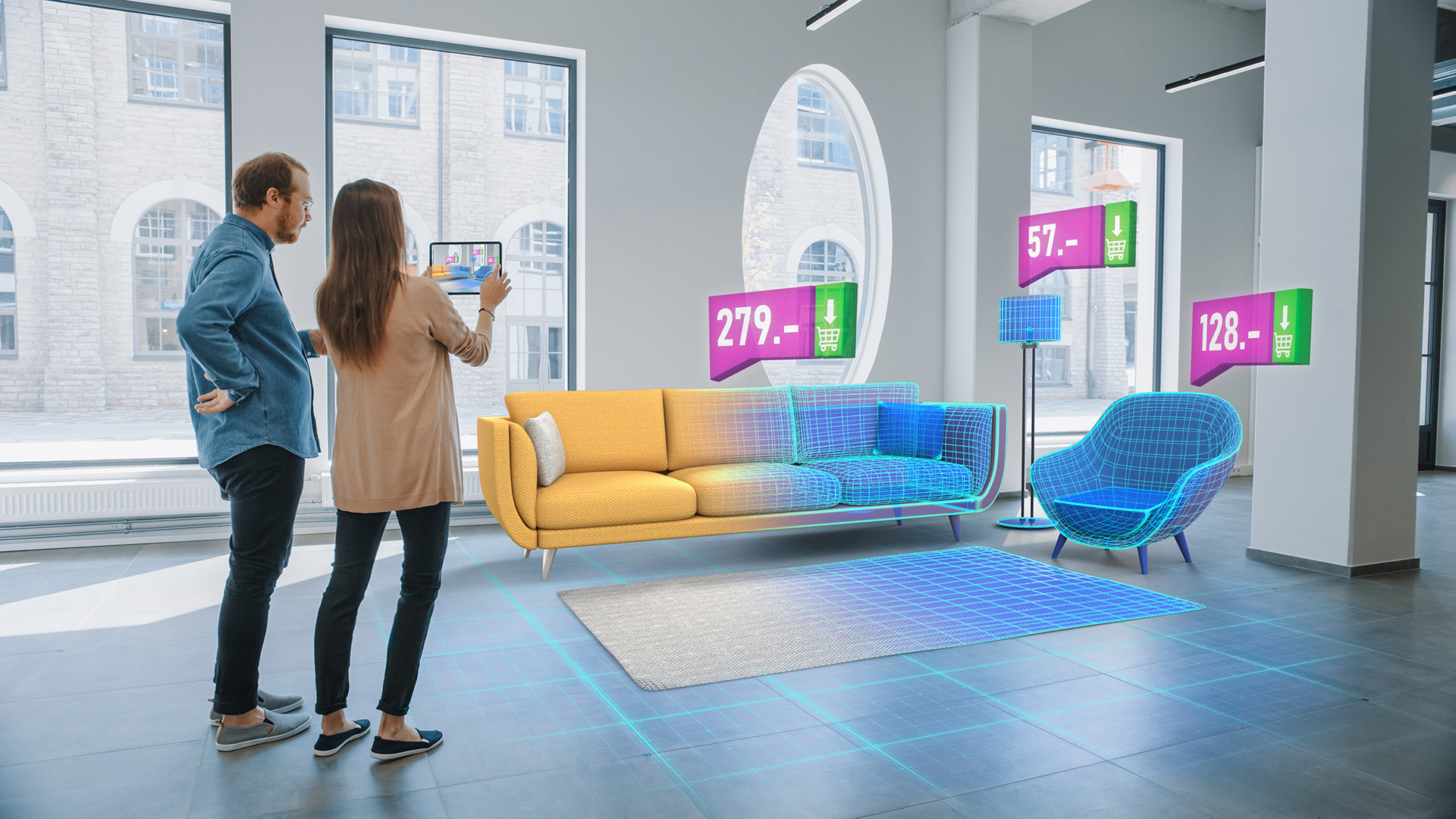 Top 10 Use Cases for AR Ecommerce
Shopping and working using technology rather than personal interaction is nothing new. But the uptick in using technology to do as much business as possible (both personal and professional) without engaging another person has permanently changed the way we live. AR Ecommerce tools are just one of the ways we can now shop, evaluate, buy, explore, and even express ourselves – all without needing to deal with another human.
You might be thinking, "Contactless tech is all fine and good, but can my business really use AR, practically, and not just as a novelty?" The short answer is probably yes, you too can use AR. But since literally anyone anywhere could be reading this post, we need to cover a lot of ground in our use cases. And we want to truly stretch your perception of how Augmented Reality can be used. So here are our top ten . But remember, each point on the list below is still just the beginning.
1. Furniture
Experienced retailers like IKEA know that their customers spend countless hours ruminating over whether a particular item with work in their real-world home. So we were not at all surprised when this furniture giant used Apple's AR Kit to build the IKEA Place app in 2017. And it's proven to be a game-changer. If you don't think AR Ecommerce has the capacity to overhaul the way an industry works, just ask any interior designer working in 2020.
2. Restaurants
Given that most diners are no longer interested in physically touching a menu, establishments that offer menu apps will have an edge going forward. Like many AR Ecommerce products, an augmented menu seemed like eye candy when we first saw prototypes. Now that we're living in a contactless world, solutions like AR can't come fast enough.
3. Décor & Art
If you've been spending too much time indoors (Hint: the answer is yes for everyone) you may be feeling the need to revitalize your space. It's just a short jump from placing furniture to placing vases, rugs, lamps, and related home accessories. Including wall art. And handmade art giant Etsy knew what you were thinking before you did. They chose an ideal moment to launch an AR feature in their wall décor and art listings – searches for which have surged since spring.
4. Real Estate
AR has been successful for Real Estate professionals across many different markets. From augmenting collateral to providing visual flexibility in show homes, AR has proven effective for the entire industry. At Stambol, tools like AR Portal in particular show us just how versatile one small tablet can be.
5. Tourism
We recently discussed changes in travel and tourism that place AR in a new light for these industries. Augmented tours of historical sites or learning centers and self-guided city maps have boomed this summer as in-person tourism services have been restricted or banned altogether. Fortunately, much of how AR is being used for educational tourism and practical DIY-navigation had already been developed and can now be enhanced further by even more tour operators.
6. Eyewear
AR has a fascinating dual role in the world of eyewear. Smartglasses are leaping forward in terms of usability and popularity. We expected AR wearables to boom in 2020, but we had no idea just how intense the boom would be – or what the mechanism of that change would look like.
7. Makeup
The reality of YouTube celebrities – specifically makeup artists – has grown by leaps and bounds in recent years. Adding AR Ecommerce technology was embraced instantly, allowing fans to replicate their favorite artists' looks instantly and accurately, all without purchasing cosmetics they wouldn't actually use.
8. Footwear
You might balk at this point on our list, thinking that every pair of shoes must be walked in to be evaluated. And that will be true for years to come. But many shoppers choose a pair of shoes for looks alone. And that can be evaluated with an AR app. AR Ecommerce for footwear manufacturers and retailers can be a winning strategy when used in tandem with a liberal return and exchange system.
9. Toys
We love seeing AR integrated into the world of play, especially when it's done cleverly. LEGO's collection Hidden Side has become a staple offering that works offline, yet expands into a larger story with additional sets.
10. Creativity
AR Ecommerce tools can be used to facilitate self-expression in a variety of ways. From animating a child's drawing and pulling it up off the page for more playtime. To detailed selfie enhancements like ears, masks, hats, and more. Offering an AR option to your customers are both value-adds – and an opportunity for more branding, provided it's done thoughtfully.
AR Ecommerce Equals Versatility
Whether you employ Augmented Reality for marketing, to engage your customers, or weave AR into your products themselves, it's an area of spatial computing with endless possibilities. Start using AR Ecommerce tools and you may just find you're applying related tech to task performance, product design, and much more.
Try-before-you-buy in AR Ecommerce
The phrase try-before-you-buy has become synonymous with AR retail applications like the ones listed above. It was developed for convenience and to experiment with just how creative we could get in terms of using spatial computing.
In the world of 2020, AR Ecommerce has claimed new importance we never could have foreseen. Yet, we are happy to have it, along with whatever solutions spatial computing will offer in the years to come.
Regardless of which industry you operate in – one from our list, or one of the many others who still need a technology upgrade – you will find new ways to use spatial computing today, tomorrow, and for the entire lifespan of your company.
Proven AR Experts
The Stambol team can help your business form an AR Ecommerce strategy that starts small, solves today's problems, and scales up to grow with you over time. We think your spatial computing solutions will blossom into an ongoing transformation strategy – and we want to be your technology partner in the process.
Ask a Stambol disruptor how we can help your business evolve into a company that's stronger than ever, ready to take on any challenge the future might hold.
Feature Image Credit: Gorodenkoff / Adobe Stock