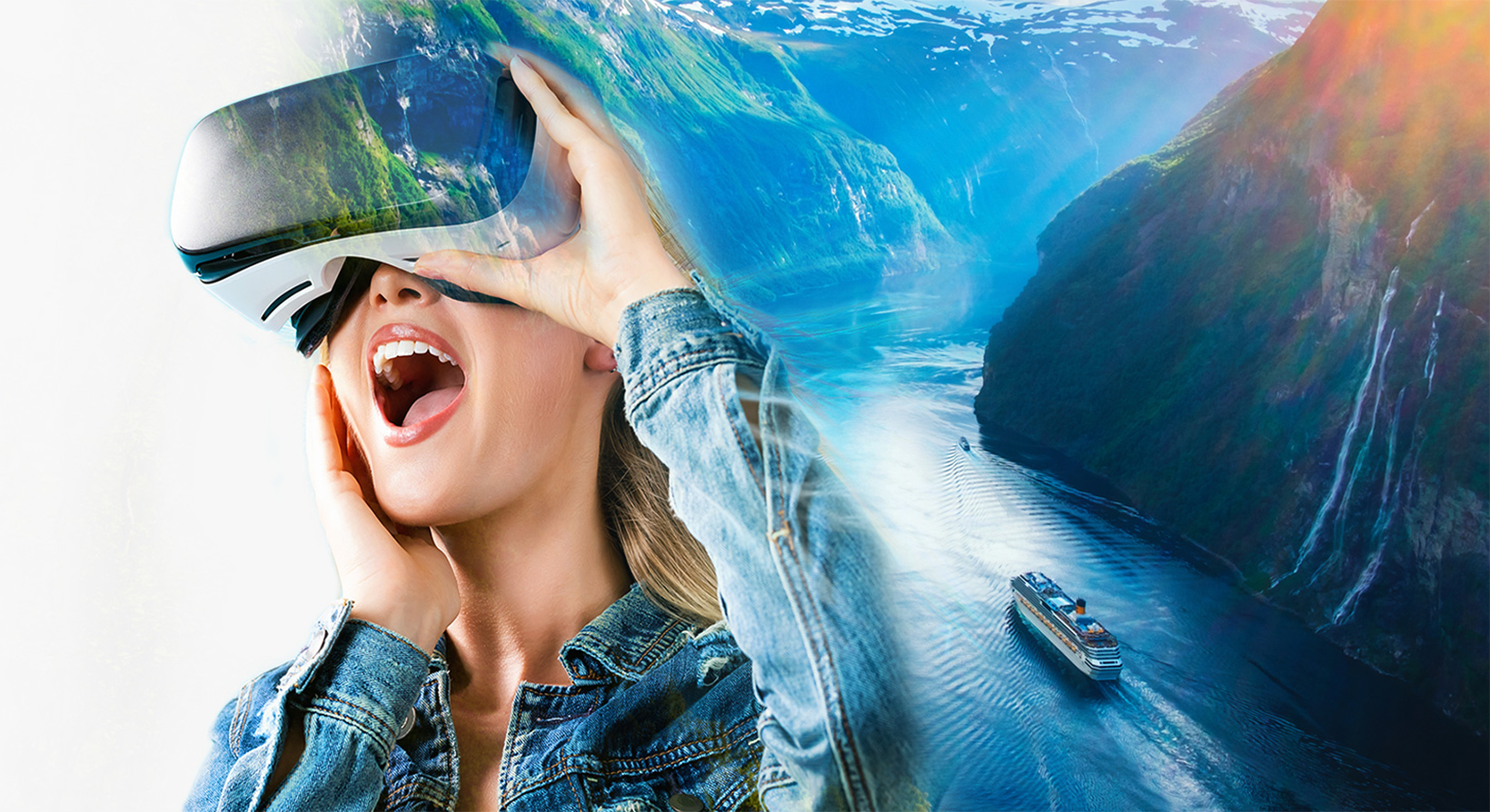 VR & AR in Hospitality & Tourism
You've heard us talk about the power Extended Reality brings to the worlds of Real Estate and architecture. But did you know XR has huge potential for tourism and hospitality as well?
Virtual Reality can enhance a vacation before, during, and after travel – using content drawn from the destination, the property, or both. Augmented Reality can assist with navigation, provide customer service, and facilitate loyalty programs. Overall, VR & AR for hotels and resorts can elevate the status of any hospitality brand.
An Escape within An Escape
The first opportunity for hotels and resorts to offer VR is as an on-site activity by supplying top quality headsets. Whether that VR offering takes the form of a common lounge or an in-room device, business and pleasure travellers alike can enjoy games and other immersive experiences alongside the hotel's other amenities.
Initial investment can be as little as a single headset and a small selection of VR content from the Steam digital marketplace. You could expect to get started for $1000-$2000, depending on accessories like controllers and headphones or speakers. If you go the lounge route, you might even want specialized chairs with haptic gloves and/or vests to really complete each experience.
Resorts and hotels with amenities like restaurants and spas who market to non-guests in their communities could consider a VR lounge as an offering along the same lines.
Let AR Be Your Guide
Augmented Reality apps tailored to your property's neighbourhood or region are just one more value-added feature hotels can offer guests. It can be as easy as adding a QR code to a tent card or a hotel directory binder.
Properties in popular urban destinations may be able to access existing apps, although custom-branded AR tour guide apps are likely to be more affordable than you might think. Hotels with strategic business partnerships in their communities can strengthen those connections with another referral channel via AR. Language and logos can carry over from your marketing collateral into the AR app, ensuring that your messaging and customer service are consistent – like a concierge to go.
Providing access to educational AR apps adds another layer of value for guests, helping even the most unprepared traveller to get the most out of his or her accommodation. Apps rich with information about geography, historical locations, landmarks, and seasonal events can be anywhere from practical (hiking maps with flora and fauna labeled) to magical (virtual restorations of ancient ruins) with just a few clicks.
Make the Memories Last Longer
VR resort walkthroughs allow your biggest fans to visit again and again … from the comfort of their own homes. Potential add-ons like interactive upgrades or seasonal variations can maximize the value of a hotel's VR counterpart.
Remote virtual replicas of a hotel or resort are also an ideal try-before-you-buy approach to tourism marketing. Travellers in either the decision-making phase or who are looking for collateral to help them get excited about a booking already made can literally immerse themselves in a picture-perfect version of your space.
While virtual versions of your property are the largest investment you can make in VR or 360 degree video, they will easily be the most memorable. The virtual replica of a resort or hotel also has the added benefit of being completely under the developer's control. Unexpected variables like property maintenance, weather problems, and troublesome guests simply won't exist.
More Mileage from Your Hardware
One more benefit of having VR equipment at your disposal is the training value it can offer your staff. From Walmart to Amazon, major corporations around the world are preparing new employees and retraining core staff as needed using simulated tasks and encounters.
Prepare a trainee for the difficult job of diffusing an angry guest. Or walk a team through new processes like green housekeeping or alterations to your banquet service program. Virtual training programs can be everything and anything you need or want.
Ask the Stambol team how VR and AR can fit into your property's brand and what we can create for your guests to enjoy, remotely or on-site.
Image Credit: Tierney / Adobe Stock (female model), ivan kmit / Adobe Stock (landscape)